If it's male dog names you're after, you'll find plenty of inspiration here. We've rounded up so many wonderful ideas that you'll surely find that unique, cool dog name for your male puppy in no time. Have a look.
Our favourite male dog names
Rocky
Made famous by Sylvester Stallone, Rocky is a dog name reserved for the strong-willed male pup, regardless of size. Rocky might be a Shih Tzu or a Great Dane - after all, it's not size but sheer determination that counts. So, if you already recognise a go-getter in your pup then this famous metaphor for the underdog is also that perfect male dog name you're looking for.
Bear
Bear is another great male dog name that works for pups big and small. The larger dog breeds will enjoy a moniker that shows off their strength and independence, while small dogs can pull it off as a funny pun on their itsy-bitsy size.
Iggy
Iggy is such an endearing male dog name that you won't need anything else to convince you this is the one for your dog. But it turns out that the meaning behind the name is what makes many dog owners choose it for the new canine friends in their life. In Latin, Iggy means "the Fiery One", which matches any pup's adventurous side.
Rebel
If you've got a rule-breaker on your hands, there is hardly a better choice than Rebel. Short and easy to say over and over again even when your tough pup just does as they please, this is one of the cooler boy dog names out there.
Hulk
The Hulk might be the huge rage machine in the comics' universe, bulldozing everything in its way, but it can perfectly lend his name to a pup determined to do just that, even if on a considerably smaller scale. If you notice your new dog wrestling with their toys, constantly fighting blankets, curtains and table cloths, Hulk might be the boy dog name you are looking for.
Clever male dog names
50 Scent
For a dog embracing the "pug life", this male dog name is the perfect match. We can't wait to see their Instagram feed!
Sherlock Bones
When your new dog goes on a sniffing mission all around the living room from day one, you know you've got a pup with some detective skills on your hands. Sherlock it is then.
Bark Twain
If your dog barks up a storm, at friends or foes, night or day, it's only fair that they get introduced as Bark Twain. After all there is nothing wrong with using a bit of humour for naming a dog that is in a constant mood for banter.
Famous male dog names
Goofy - Walt Disney
Such a beloved Disney character, Goofy still offers inspiration for dog owners on naming duties more than seven decades after it was first created. And if your puppy is funny and a bit clumsy as the cartoon character, Goofy might just be the male dog name to settle for.
Krypto - Superman comics
If you've just adopted a super-dog with super-cute powers, it is only fair to take inspiration from Krypto, aka Superman's own dog.
Toto - the Wonderful Wizard of Oz
Smart, funny and loving Dorothy with all his heart, we can't help but completely fall head over heels for Toto from "The Wonderful Wizard of Oz". We all need a Toto in our lives and you might be lucky enough to have one already.
British-inspired male dog names
Watson
Sherlock's sidekick, best friend and flatmate, Watson is an inspiration for dog owners everywhere. This British male dog name checks all the boxes. It sounds cool, it's short and it's a smart pop culture reference - all wrapped into one.
Idris
Here is a cool and very British name for your boy dog. Say it out loud a few times and see if you're getting any reaction from your pup. As soon as you see the tail-wagging intensify, you'll know you've got a winner.
Shakespeare
Shakespeare is not your usual male dog name, but if a British-inspired moniker is a must, then one of the most famous British names has got to be on the list.
Male dog naming tips
There are a few things to keep in mind when choosing a good dog name for your male puppy:
Don't rush it
It's tempting to give your pup a name as soon as you meet them, but a good tip is to wait a few days. Get to know their personality, discover their little quirks and see what funny behaviour they are capable of. Coming up with a name that truly matches your unique puppy is so much more rewarding than going for a generic dog name.
Say it out loud
A decisive test that can make or break a good male dog name is saying it out loud. It makes a huge difference hearing how it resonates in a room or how far it travels outdoors. Does it roll off easily or is it a tongue-twister? Can you easily say it three or four times in a row or are you already out of breath the second time around?
See what your pup thinks
Take your puppy for a walk and watch the reaction you're getting when they hear their prospective name out loud. If they turn to look at you when you use the name it's a good sign, and if they give you a good tail-wagging session you're definitely on the right track. And if your dog completely ignores you, that's just pup talk for "try again". Looking for even more inspiration? Check out our article full of name ideas for large dogs. If you've got a shorter pup in the family, we've got you covered too. Here are our best names for short dogs.
Explore our puppy food: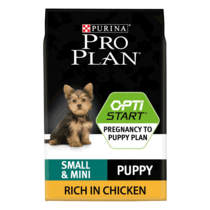 PRO PLAN® Small and Mini Puppy OPTISTART Chicken Dry Dog Food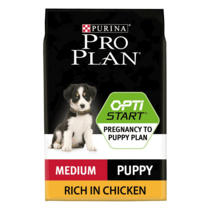 PRO PLAN® Medium Puppy OPTISTART Chicken Dry Dog Food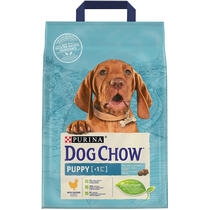 Dog Chow® Puppy Chicken Dry Dog Food