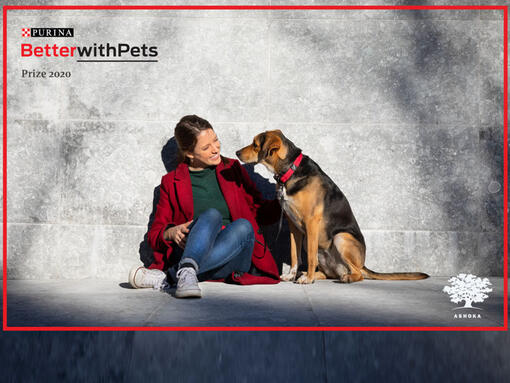 Purina Better with Pets Prize
We know that pets and people are better together, that's why we partnered with Ashoka to create the BetterwithPets prize.
Here at Purina, we're passionate about great nutrition, which is at the heart of what we do. But, we're also a company of pet lovers who believe people and pets are better together.
There is magic and strength in the pet-human bond that we think has the potential to be a positive force for change within society.
At the same time, we know innovators and social entrepreneurs are some of the first to unleash dynamic, new, creative solutions to foster positive impacts for individuals and communities. For that reason, in 2018, we partnered with Ashoka to launch the Purina BetterwithPets Prize.
Ashoka is a pioneer in the field of social entrepreneurship. They identify and support the world's leading social entrepreneurs, learning from the patterns in their innovations, and mobilize global communities that embrace these new frameworks to build "everyone a changemaker world."
The BetterwithPets Prize, valued at $132,437, is a search to support social innovators that focus on harnessing the power of the pet-human bond for the health and wellbeing of society, across Europe. The Prize is split into two categories: one, rewarding entrepreneurs who have put forward a piloted innovation and one rewarding an idea-stage innovation. This second category is specifically focused on young innovators with innovations in an early stage to help support them in taking their project to the next step.
We´re inspired by social innovators and entrepreneurs who are leveraging the pet-human bond to help develop further key emotional and behavioural competencies; enabling positive impact in communities; enhancing physical health and wellness, and reimagining the role of pets in society. We want to help support those who believe as we do, that people and pets are better together and that the pet-human bond has the power to transform society! Nutrition is what we do! But our passion for pets extends beyond the bowl and we want to do more of what matters for pets in society. We could not be prouder of the Purina BetterwithPets Prize! Find out about our winners below!
BWPP Winners - 2018

In 2018, The OOPOEH Foundation won the BetterwithPets Prize and was awarded $39,730 to support and accelerate their innovative initiative. The OOPOEH Foundation, based in The Netherlands, hopes to reduce loneliness and increase physical activity for the elderly by matching them as a dog sitter to a family in their neighbourhood.
We are honoured and excited to be awarded this prize, this will allow us to increase our initiative's social impact. We had a fantastic workshop with Purina and now look to continue our project to target vulnerable seniors with the advice and inspiration taken from the BetterwithPets Forum.
The other 2018 four finalists, Canine Hope, Dutch Cell Dogs, Medical Detection Dogs and K9 Hundekunde: Happy Kids with Happy School Dogs, were also awarded $15,890 each as the judges thought all the initiatives were so fantastic.
BWPP Winners - 2020
In 2020, we had two prize categories. The Piloted Innovation Category, and the Idea Stage Category.
Piloted Innovation Category: Winner
StreetVet Accredited Hostel Scheme was our winner of the piloted innovation category and was awarded $52,975 to support and accelerate their initiative. StreetVet focuses on providing free, accessible veterinary care to pets whose owners are experiencing homelessness on the streets or in hostels and has unveiled a creative new way in which we can harness the positive and impactful power of the pet-human bond within society.
Everything about StreetVet for me has been a crazy journey, from an idea – just sticking a backpack on and going out, to this being what I do now every day. It comes down to our volunteers, who are amazing, and the strength of the human-animal bond, because that's why we're all doing it. The best part of this process and StreetVet has been about the people we have met along the way, be it owners with their dogs, or people who have wanted to make a difference.
Piloted Innovation Category: Runner Up
Gamelles Pleines was our runner up and was awarded $21,190 to scale the impact of their initiative. Gamelles Pleines works across France to help homeless pet owners to feed, care and keep their pets while harnessing the benefits of pet ownership for a successful social reintegration.
It's more than winning a prize, it's about sharing an idea and a project. For me, the most important issue was to make visible the invisible, so people can see homeless people and their pets differently. I feel very happy because this objective is fulfilled because both Gamelles Pleines and StreetVet, are acting for the same cause in two different countries. It's a big win for the homeless people.
Idea Stage Category: Winner
Homely Home is the winner of the idea-stage category for young change-makers between 18 and 25 years old and has been awarded $10,595 to develop their vision into a piloted project.
Homely Home is based in Russia and reimagines rehabilitation programs for people and pets that create meaningful, lifelong bonds and increased wellbeing.
The prize money would help us create the first ever Homely Home and set an example of how rehabilitation can be improved with animals. We can promote the big idea of homes that focus on both the socialization of animals and the absolute healing power that the pet-human bond can have on people struggling with depression, domestic violence, homelessness.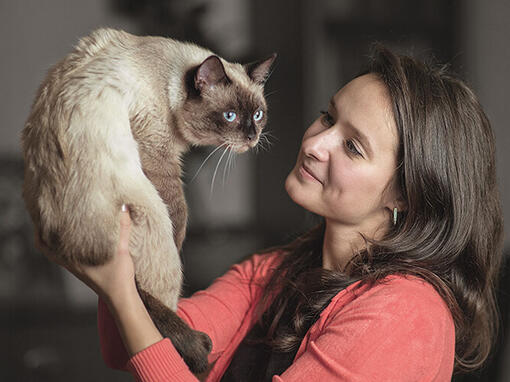 Our impact
Our Commitments
Pet food is at the heart of what we do, but it's by no means all we do. We're passionate about doing more of what matters to shape a society that is better with pets, and doing more of what matters for pets, people, and the planet.

We've developed our Purina in Society Commitments to set ourselves clear goals which can make a positive impact in the world, for pets, the people who love them, and the planet we all share.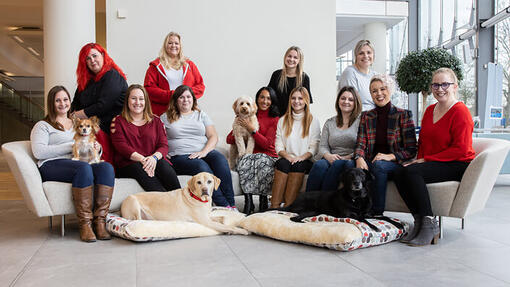 Contact us
We're here to answer all of your pet questions - big or small, really serious or a little silly. Get in touch with us directly any time, any way. Our lines are open 24 hours, 7 days a week.