Big dogs are wonderful companions as there's just so much more to love! If you've decided to take the plunge and have got the space in your heart and home for a big pup, you'll probably be looking for some great big dog names. Don't worry, we've got you covered and have come up with a fantastic list of boy and girl big dog names, that includes everything from Disney-inspired monikers, to names that literally mean big and even ones that'll make you laugh out loud!
Top 10 big girl dog names
From names inspired by Greek goddesses to ones influenced by nature, this is our top 10 list of our absolute favourite girl big dog names:
Artemis
Athena
Freya
Pandora
Asta
Ebba
Kali
Moxie
Sasha
Willow
Top 10 big boy dog names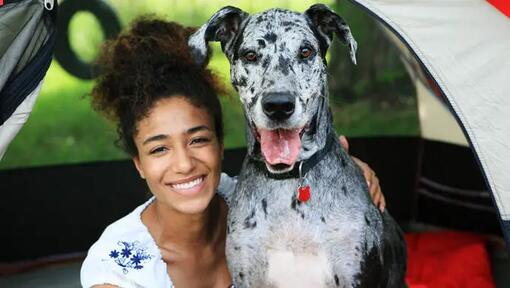 A big dog deserves a name that's going to make a big impact. Check out our list of the best male big dog names that includes everything from Greek gods to fearsome creatures.
Tyson
Hercules
Apollo
Ziggy
Bjorn
Bruno
Fang
Titus
Zeus
Thor
10 Disney big dog names
Calling all Disney fans! There are tonnes of fabulous big dogs from Disney films that have names that'd be the perfect fit for your new companion. Some of our favourites are:
Goofy
Pluto
Pongo
Perdita
Colonel
Towser
Thunderbolt
Napoleon
Roscoe
Desoto
10 Funny big dog names
Consider yourself a bit of a comedian and want a name that adds a touch of irony to your dogs' size? Our funny big dog names are right up your street. Just remember you'll probably have to yell their name out in public, so you may not want to choose something too funny!
Tiny
Chewie
Clifford
Tinkerbell
Peanut
Biggie Smalls
Cupcake
Jabba (The Hutt)
Tank
Baby
10 Big dog names from the movies
If you're a TV or movie buff, you may find the perfect moniker with these male and female big dog names, all of which are inspired by the hounds you love on the big screen.
Chance (Homeward Bound)
Shadow (Homeward Bound)
Sirius (Harry Potter)
Buddy (Air Bud)
Beethoven (Beethoven)
Scooby Doo (The Scooby Doo Show)
Brandy (Once Upon a Time in Hollywood)
Hooch (Turner & Hooch)
Marmaduke (Marmaduke)
Wilby (The Shaggy Dog)
10 Big dog names that actually mean big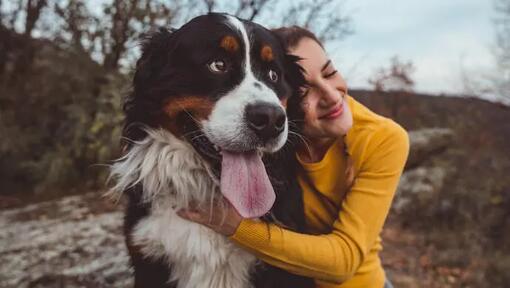 Looking for a name that does your huge pup justice? Then why not choose a name that literally means big? These big dog names either mean big or translate to this (or something similar) in other languages, so they're sure to echo their greatness.
Goliath (very large and powerful person)
Maximus (largest/greatest in Latin)
Colossus (a person/thing of enormous size)
Groot (large in Dutch)
Ookii (big in Japanese)
Bozorg (large in Persian)
Suuri (large in Finnish)
Valtava (huge in Finnish)
Stor (big in Swedish)
Magnum (big in Latin)
That's our ultimate guide to the best big dog names! Remember when choosing a name, it's not only important to choose one which fits their looks and personality, but it also needs to be something they respond to as well. Before you fully commit to a name, have a go at calling your dog with it to see how they react to it.
Thinking about getting a smaller dog instead? Check out our guide on the best names for a little dog, next.