Friskies adult Cat Food
Friskies Meaty Grills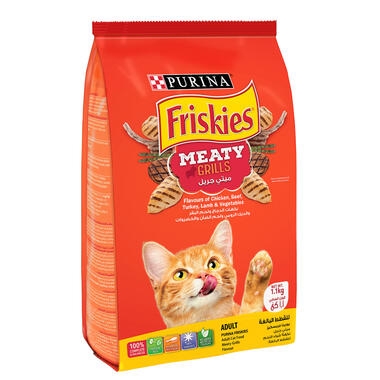 Protein rich to help maintain strong lean muscles
Antioxidants to help support a healthy immune system
Dental protection to help support healthy teeth and gums
Essential Fatty Acids with Omega 3 & 6 for a healthy skin and coat
Vitamin A & Taurine to help support clear, healthy vision
100% complete & balanced
No added artificial colours
Available in stores and online in:

SAUDI ARABIA
After Exploring & Playing, it's Time to Refuel
Here's a mealtime idea that will definitely get the undivided attention of your cat. We're talking about grillicious morsels of flavour including beef, chicken, lamb, turkey and a touch of garden veggies. Think of it as an amusement park ride for your cat's taste buds.
Benefits
Protein rich to help maintain strong lean muscles
Antioxidants to help support a healthy immune system
Dental protection to help support healthy teeth and gums
Essential Fatty Acids with Omega 3 & 6 for a healthy skin and coat
Vitamin A & Taurine to help support clear, healthy vision
100% complete & balanced
No added artificial colours
Ingredients
Wholegrain cereals and/or cereal by-products and/or vegetable by-products; Meat and meat by-products (poultry and/or beef and/or lamb and/or pork) and/or poultry by-products; Vitamins, Minerals and Amino acids; Food colours; flavours.
The quantity below represents the amount to feed a cat daily. The quantity may vary based on size, age, breed and activity level.
| | |
| --- | --- |
| Weight of Cat (kg) | Amount to Feed (grams/day) |
| 2 | 30 |
| 3 | 50 |
| 4 | 65 |
| 5 | 80 |
| 6 | 95 |
1 cup (250ml) is approximately 110g.
AFTER EXPLORING AND PLAYING IT IS TIME TO REFUEL.
Feeding guidelines are averages and your cat's needs may differ. Feeding should be adjusted as necessary to maintain an ideal body condition. Remember, cats are nibblers who enjoy eating small meals throughout the day, so your cat would appreciate it if you kept a bowl of PURINA FRISKIES dry food available at all times.
Dental Chews
You may also like...