Friskies Cat Food
Friskies Kitten Discoveries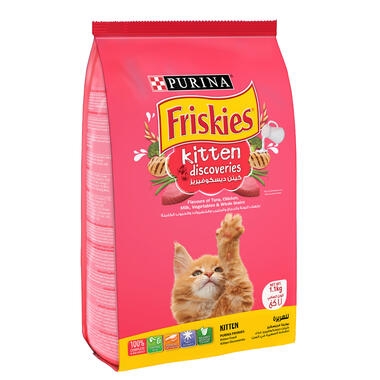 Protein rich to help maintain strong lean muscles
Antioxidants to help support a healthy immune system
Calcium & Vitamin D to aid in the development of strong bones and teeth
Essential Fatty Acids with Omega 3 & 6 for a healthy skin and coat
Vitamin A & Taurine to help support clear, healthy vision
100% complete & balanced
No added artificial colours
Available in stores and online in:

SAUDI ARABIA
After Exploring & Playing, it's Time to Refuel
Unlock a magical world of discovery for your kitten with every mouthful of FRISKIES® . This delicately sized kibble is made with so many exciting and scrumptious flavours and shapes, it will be sure to satisfy your kitten's craving for adventure.
Benefits
Protein rich to help maintain strong lean muscles
Antioxidants to help support a healthy immune system
Calcium & Vitamin D to aid in the development of strong bones and teeth
Essential Fatty Acids with Omega 3 & 6 for a healthy skin and coat
Vitamin A & Taurine to help support clear, healthy vision
100% complete & balanced
No added artificial colours
Ingredients
Wholegrain cereals and/or cereal by-products and/or vegetable by-products; Meat and meat by-products (poultry and/or beef and/or fish and/or lamb
and/or pork) and/or poultry by-product; Vitamins, Minerals & Amino acids; Food colours; flavours.
Feeding Guide
The quantity below represents the amount to feed a cat daily. The quantity may vary based on size, age, breed and activity level.
| | |
| --- | --- |
| Age of Cat (months) | Amount to Feed (grams/day) |
| 1-3 | 45-75 |
| 3-6 | 75-85 |
| 6-12 | 85 |
1 cup (250ml) is approximately 110g.
AFTER EXPLORING AND PLAYING IT IS TIME TO REFUEL.
Kittens should be fed in 2-3 meals or ad libitum. From ages 1-3 months PURINA FRISKIES Kitten Discoveries may be moistened with water. Gradually increase the amount fed up to the age of 6
months.
Feeding guidelines are averages and your cat's needs may differ. Feeding should be adjusted as necessary to maintain an ideal body condition.  Keep in mind, pregnant and nursing cats may require 2 - 4 times their normal daily feeding amount."
Dry Food
You may also like...