Friskies® Dry Cat Food
Friskies® Sterilized with a tasty mix of Salmon and Tuna Dry Cat Food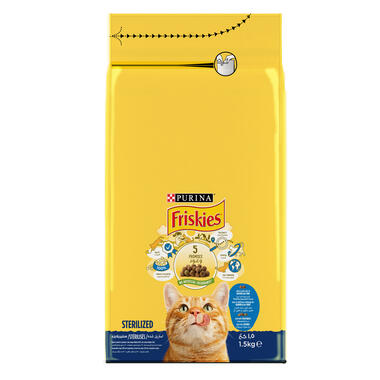 100% Complete and balanced
The recipe is specially formulated to provide your neutered cat with all the nutrition he needs to help keep him healthy and happy
No Artificial Colourants, Flavourings or Preservatives
Helps your cat to maintain a healthy weight thanks to a balanced protein to fat ratio
Healthy heart and good eyesight promoted by Taurine
Vitamin E to help support his natural defences
100% Complete and balanced
The recipe is specially formulated to provide your neutered cat with all the nutrition he needs to help keep him healthy and happy
No Artificial Colourants, Flavourings or Preservatives
Helps your cat to maintain a healthy weight thanks to a balanced protein to fat ratio
Healthy heart and good eyesight promoted by Taurine
Vitamin E to help support his natural defences
Friskies® 5 Promises. From the day you brought your cat home, you made a commitment, a promise to care for them and feed them right. It is the same here at Friskies®. We promise to always use our experience and expertise to do our utmost for you and for your cat to keep him happy and healthy. Friskies® Sterilized is a recipe specially formulated to provide your neutered cat with all the nutrition he needs to help keep him healthy and happy.
5 promises because we care:
- Nutrition: 100% complete and balanced nutrition and delicious goodness, with a blend of animal and plant-based proteins
- Quality: we carry out hundreds of daily checks throughout our production process
- Expertise: developed by Purina nutritionists
- Traceability: made with high quality ingredients carefully-selected from known and trusted suppliers
- 2025 commitment: we are committed to 100% recyclable or reusable packaging by 2025
All our recipes have no artificial colourants, flavourings or preservatives.
Cereals, Meat and animal derivatives, Vegetable protein extracts, Derivatives of vegetable origin, Oils and fats, Fish and fish derivatives (of which 3% tuna and 1% salmon in cube shape kibbles*), minerals, Yeasts, Vegetables (0.6% dehydrated vegetables equivalent to 4% rehydrated vegetables in disc shape kibbles**).
*Total content in product: 2.4% tuna and 0.8% salmon
**Total product content: 0.6% rehydrated vegetables
Typical content in product: cube shape kibbles 80%; disc shape kibbles 20%.
Calories
(Note: Information Not Available on the Excel sheet data shared for the LSS)
Nutrition & Analytical Constituents
Protein: 31%,
Fat Content: 9%,
Crude Ash: 7%,
Crude fibre: 4.5%,
Moisture: 6%
Nutritional additives
IU/kg:Vit A: 14000; Vit D3: 1100; Vit E: 100;
mg/kg: Iron (II) sulphate monohydrate: (Fe: 54); Calcium iodate anhydrous: (I: 1.7); Copper (II) sulphate pentahydrate: (Cu: 10); Manganoussulphate monohydrate: (Mn: 5.8); Zinc sulphate monohydrate: (Zn: 75); Sodium selenite: (Se: 0.12); Taurine: 1000.
Colourants(1) and antioxidants
(1)no artificial colourants.
Cat Weight = Quantity to provide (Grams per Day)
Adult 3 kg = 40g
Adult 4 kg = 55g
Adult 5 kg =70g
The adult maintenance averages are based on moderately active cats at normal environmental temperatures. Individual needs vary and feeding should be adjusted as required to maintain your cat at a lean, healthy body weight. Fresh, clean drinking water should always be available. Sufficient consumption of water is a necessary part of healthy, every day nutrition.
Dry Food
You may also like...