Friskies® with Chicken and with Vegetables Dry Cat Food
Friskies® with Chicken and with Vegetables Dry Cat Food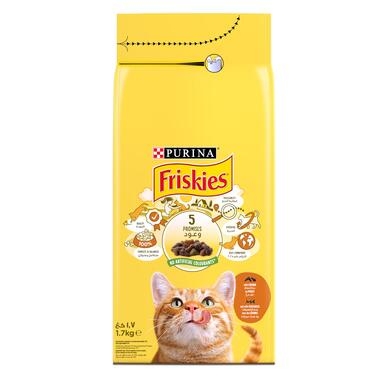 Friskies® with Chicken and with Vegetables Dry Cat Food
100% Complete and balanced
Promotes a healthy digestion
No Artificial Colourants, Flavourings or Preservatives
Healthy skin and shiny coat supported by essential fatty acids
Healthy teeth and bones supported by essential minerals and vitamin D
Healthy urinary tract supported by the right balance of minerals
100% Complete and balanced
Promotes a healthy digestion
No Artificial Colourants, Flavourings or Preservatives
Healthy skin and shiny coat supported by essential fatty acids
Healthy teeth and bones supported by essential minerals and vitamin D
Healthy urinary tract supported by the right balance of minerals
Friskies® 5 Promises. From the day you brought your cat home, you made a commitment, a promise to care for them and feed them right. It is the same here at Friskies®. We promise to always use our experience and expertise to do our utmost for you and for your cat to keep him happy and healthy.
5 promises because we care:
- Nutrition: 100% complete and balanced nutrition and delicious goodness, with a blend of animal and plant-based proteins
- Quality: we carry out hundreds of daily checks throughout our production process
- Expertise: developed by Purina nutritionists
- Traceability: made with high quality ingredients carefully-selected from known and trusted suppliers
- 2025 commitment: we are committed to 100% recyclable or reusable packaging by 2025
All our recipes have no artificial colourants, flavourings or preservatives.
Ingredients
Cereals, Meat and animal derivatives (of which 4% chicken in drumstick shape kibbles*), Vegetable protein extracts, Oils and fats, Derivatives of vegetable origin, minerals, Yeasts, Vegetables (0.6% dehydrated vegetables equivalent to 4% rehydrated vegetables in tripod shape kibbles**), .
*Total content in product: 3% chicken
** Total content in product: 1% rehydrated vegetables
Typical product composition: drumstick shape kibbles 75%; tripod shape kibbles 25%.
Calories
(Note: Information Not Available on the Excel sheet data shared for the LSS)
Nutrition & Analytical Constituents
Protein: 30%,
Fat content: 11%,
Crude ash: 8%,
Crude fibre: 3%,
Essential fatty acids: 1.8%.
Moisture: 6%
Nutritional additives
Additives:

IU/kg:Vit A: 12500; Vit D3: 1000; Vit E: 85

mg/kg:Iron (II) sulphate monohydrate: (Fe: 47); Calcium iodate anhydrous: (I: 1.5); Copper (II) sulphate pentahydrate: (Cu: 8.9); Manganoussulphate monohydrate: (Mn: 5.1); Zinc sulphate monohydrate: (Zn: 66); Sodium selenite: (Se: 0.1); Taurine: 870.
Colourants(1) and antioxidants
(1)no artificial colourants.
Cat Weight = Quantity to provide (Grams per Day)
Adult 3 kg = 45g
Adult 4 kg = 60g
Adult 5 kg =75g
The adult maintenance averages are based on moderately active cats at normal environmental temperatures. Individual needs vary and feeding should be adjusted as required to maintain your cat at a lean, healthy body weight. Fresh, clean drinking water should always be available. Sufficient consumption of water is a necessary part of healthy, every day nutrition.
Dry Food
You may also like...