Dry skin can be an extremely painful problem for puppies. As soon as skin begins to turn dry, it will also turn itchy.
Young puppies won't be able to resist this itch and will scratch it all day and all night. Scratching these itches can be very harmful and damaging. Scratching leads to cut skin and bleeding, which can then lead to even more severe skin issues.
The good news is there are a number of steps you can take to minimise the risk of dry skin and keep your puppy's coat at its best.
Brushing
Brushing the coat is one of the best ways to prevent dry skin in puppies. Each time you brush your puppy's coat it wipes away any dry skin flakes resting on the surface. These skin flakes can cause irritation if left to build up, and this irritation will ultimately lead to your dog scratching.
Olive oil
Olive oil is full of good fatty acids that will help nourish your dog's skin. Fatty acids such as omega 3 are crucial to your puppy's skin and coat development. Adding just a few drops to the daily food can make a real difference, especially if they are already suffering from dry skin.
Puppy shampoo
Puppy shampoo can support your puppy's coat whilst they are developing into an adult. Most shampoos contain a range of different oils and ingredients to improve the elasticity of your dog's skin. These special ingredients also help to repair and nourish any skin that may have become slightly dry.
When shampooing your puppy make sure you use a pet shampoo and not a human one. Human shampoos have not been designed with pets in mind and could end up doing more harm than good. Ask your vet to recommend the best pet shampoo for your dog's breed and size.
If you notice these symptoms, make sure your dog always has access to fresh clean water. If your puppy still resists drinking you should take them to your vet, as there may be a more serious issue behind the problem.
Choosing the right food for a healthy puppy skin
The kind of food you feed your puppy can impact the health of their coat and skin. If you're looking for a complete dog food that's clinically proven to support healthy skin, consider PURINA® PRO PLAN® Dog Puppy Sensitive Skin with OPTIDERMA®. This diet has been specifically created to help puppies with skin issues.
Each bowl helps reduce possible skin discomfort associated with food sensitivity thanks to selected source of protein (more than 90% coming from salmon) and the inclusion of skin-targeting nutrients such as zinc, essential fatty acids and vitamins A, E, and B.
Explore our puppy food: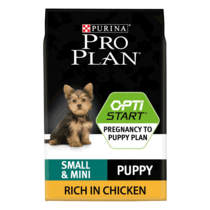 PRO PLAN® Small and Mini Puppy OPTISTART Chicken Dry Dog Food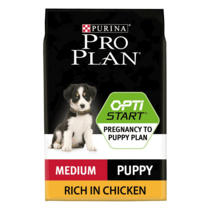 PRO PLAN® Medium Puppy OPTISTART Chicken Dry Dog Food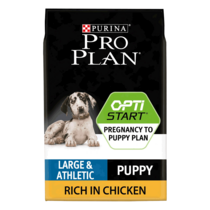 PRO PLAN® Large Athletic Puppy OPTISTART Chicken Dry Dog Food
New puppy? Read these next: