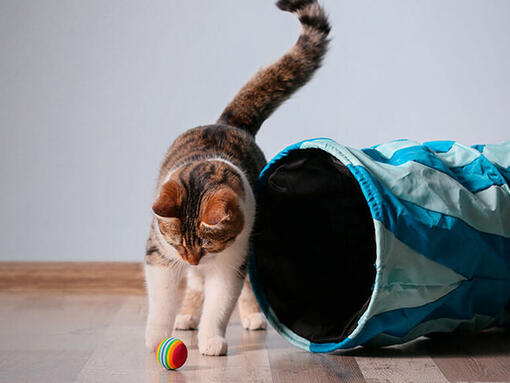 Help reduce the risk of pet obesity.
Pet obesity is one of the largest health issues among cats and dogs, which is why it's our goal to try and reduce the risk through prevention programmes.
Our achievements to date
In 2017, we launched "Healthy Love", a programme designed to help equip vets with the right information to have conversations with pet owners about maintaining a healthy weight for their pets.
The programme focuses on: 
- Preventing obesity (maintaining a healthy weight) in all pets, with a focus on high-risk normal weight pets.  
- Correcting obesity - simplified weight loss programme for overweight pets
- Avoiding rebound weight gain - healthy weight for the long term after successful weight loss, maintaining healthy habits. 
During 2018, the Healthy Love Programme was launched in 4 of our top markets. But unfortunately, The Healthy Love campaign could not be run from March 2020 due to local COVID related restrictions on vet clinics.
However, we helped support university research into obesity treatment and prevention, and the results were communicated via media campaigns in 5 of our top 10 markets.
Our point of view
Research tells us that pet obesity is the single biggest pet health issue, with 33-58% of cats and dogs measured as overweight. Modern lifestyles and a tendency to pets with snacks and treats (out of 'too much love') are some of the root causes of problems. This epidemic of overweight pets is resulting in health problems, which not only puts enormous pressure on joints and internal organs, but also has a severe impact on quality of life.
At Purina, we have a long history of promoting a healthier diet and lifestyle for our pets, and bringing breakthrough innovations to the pet food industry – many of which have redefined industry standards. These include our clinical diets, the first diets on the market specially formulated to help with weight loss and the maintenance of a healthy weight.

We have also pioneered the "body condition score" – now widely adopted and used not only in scientific studies, but also by vets and pet care charities as the gold standard to evaluate the body condition of pets and whether they are overweight or obese. We continue to work closely with vets to help pet owners better understand how they can make a positive change to their overweight pets' health by changing their own behaviour.
Our goal is to help reduce the risk of pet obesity through collaborative prevention programmes – working with key players in pet nutrition and public health to affect real change.
We recognise that the depth of the problem means we can't do it alone. We need to work within our industry and with other key stakeholders to make a difference.
Tackling pet obesity is even more challenging when many pet owners don't even realise that their pet is overweight.
Building on Nestlé CSV
Just as we are committed to improving the lives of pets and the people who love them, our parent company Nestlé is committed to enhancing the quality of life and contributing to a healthier future for individuals and families, our communities, and the planet.
Case Study: Promoting dog's exercising with friends
In 2019, Purina Ukraine partnered with a local organization called 'Run Ukraine' to encourage pet owners to run with their dogs in a safe environment and in a community. Owners and their pets were able to run either 3 or 5 km distances. At the event, water points were made accessible for pets along with educational materials for the owners to learn more about healthy nutrition for dogs.
In 2020, our Pro Plan team in Ukraine sponsored two events: the Kyiv Half marathon and Marathon. Due to Covid-19, both events were transformed into an online format. Every participant could choose their usual route (to observe the local social distancing rules across the country and then share their final run tracker results with us. Every participant received a starter kit with some dog food and winner medals for both the owner and their dog. This campaign addresses one of the results highlighted in Purina's research to promote social support and exercise.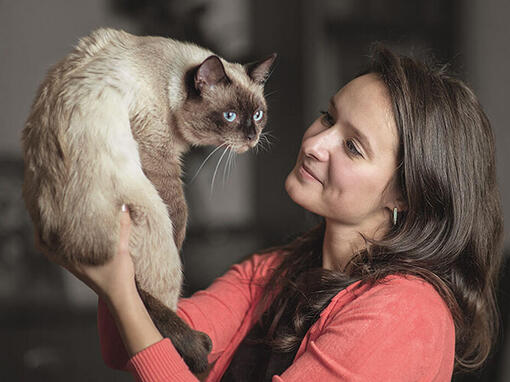 Our impact
Our commitments
We're dedicated to improving the lives of pets and those who love them, which is why we've made 10 commitments to achieve by 2023.