Finding the right breeder is crucial to make sure that your pup has received the best start to grow into a happy and healthy dog. Find out what to look for in a puppy breeder with this guide.
Adding a new puppy to your household is an exciting time, but it does come with its own little stresses. Before you get your hands on that adorable ball of fluff, there's a few things to consider, such as, am I ready to dedicate my life to a dog? And what breed best suits my lifestyle? Then, once you've answered all these questions you need to find a reputable breeder to ensure that you're buying a puppy that's in good health and is well-cared for. So, if you're wondering where to buy a dog from and what questions to ask the breeder, we've put together this puppy buying guide to help you on your journey to getting your new four-legged friend.
Buying a puppy checklist
Before buying a puppy, you will need to be able to answer yes to all the questions on our buying a puppy checklist. Dog ownership can be extremely rewarding as it brings you unconditional love companionship, a healthier lifestyle and a sense of joy. But are you ready for the commitment?
Can I afford to own a dog for its life? Things to think about are food, veterinary fees, possible grooming costs, kennelling fees and insurance costs.
Are my circumstances right for a dog? This includes work hours and size of home. Will there be someone at home if I work long hours?
Can I make a lifelong commitment to a dog? The average lifespan of a dog is around 12 years and so you will need to be able to commit for this length of time.
Will I be able to exercise the dog every day? Will I be able to train, groom and generally care for the dog?
Can I answer yes to all the questions on the buying a puppy checklist, 365 days of the year?
If the answer is yes then you can move onto and research the next steps.
Which dog breed is right for me?
The next step on our puppy buying guide is that you'll need to decide which dog breed is right for you depending on your preferred size, exercise levels, grooming needs and if they suit family life. There are many breeds out there and all will suit different sorts of people and circumstances. A Border Collie, for example, will not do well in a flat with no garden and no access to regular exercise, whereas a smaller breed such as a Chihuahua will likely not mind.
Do you live in the town or country?
What type of home do you live in?
What size garden do you have?
What size dog can you handle? Check out our guides for tiny, small, medium and big dog breeds for some inspiration.
Now that you know what dog breed will be the perfect companion for you, the next question is where to buy the new canine friend from.
Where to buy a dog?
You should buy your new dog from an assured, responsible breeder that follows best practices and has been inspected on a regular basis. According to the kennelclub.org.uk, assured breeders need to comply with health screenings and high welfare standards, which is great news for the puppies in their care. This means they are well taken care of and will have a great start in life.

How to buy a dog: top tips
Buying your new dog from an assured, responsible breeder sounds great, but what's the best method to find one?  There are a few different options: you can buy a dog by checking the list of assured breeders on the Kennel Club's site, or by looking for breeder information from breed clubs. Checking the forums and Facebook groups of dog lovers is a good idea, as they often have the best tips on how to buy a dog in your area.
Use the Kennel Club Assured Breeders site
 All you need to do is find your favourite breed and type in your location. A list of assured breeders will appear with their contact details and their accolades.
Check breed clubs and societies for breed information and litters
One of the things that should be on your buying a puppy checklist is to find out as much information about your chosen breed. Breed clubs are always the best way to find out information as they're in place specifically for a particular breed and is run by people that are passionate and knowledgeable about them. Many also run a puppy list and so will be able to point you in the right direction of a current litter from a reputable breeder.
Join forums and Facebook groups for breed information
These can be valuable for getting a puppy as many that are involved are very passionate about their breeds. But a word of caution, sometimes breed politics can become involved and this is not at all helpful. Also, some people in these groups pretend to be breed experts, yet have very little experience. Always look for accredited experts, and read reviews from other people who have bought puppies from them.
Visit dog shows
Dog shows are an excellent place to see and view a number of different dog breeds or examples of a particular breed all in one place. They will also give you the opportunity to meet both owners and breeders, many of whom love to talk about their chosen breeds, or even point you in the right direction of a reputable breeder.
Check out dog-related publications
Be prepared to wait
Be prepared that you may have to wait for the right puppy. Not all breeds have huge numbers of litters bred each year and so puppies will possibly be scarce. Also, do not expect to be able to pop down the road for your desired puppy, you may have to travel considerable distance.
Don't buy a puppy from a pet shop or online
Don't be tempted to buy a puppy from a pet shop, online (without meeting them first) or in other circumstances where the puppy's history is unclear (e.g. at a car boot sale or from the newspaper), no matter how cute they might appear! These puppies may have come from puppy farms or, worse still, been stolen.
Top 21 questions to ask a dog breeder when buying a puppy 
When thinking about what kind of questions to ask when buying a puppy, it's a good idea to do your research first. Find out as much as you can about the breed by talking to current owners and researching online, then think of any additional questions. You should ask questions about the puppies, their mum and dad, the breeder and their environment. If you're stuck for ideas, here is a good list of questions to ask a dog breeder:
How many litters has mum had, and how many per year? Responsible breeders will never produce more than one litter per bitch each year.
How did the pregnancy go? Did mum have any complications?
Do mum or dad have any health problems? Ask specifically about hip/elbow scores and any eye problems.
Are the dogs tested for any genetic problems in the breed? (You should research this before contacting the breeder so you're aware of any tests available).
Is it possible to meet dad? If he's not around, you should insist on meeting mum.
What environment will the litter be raised in? Puppies raised in a busier household, with other pets, children and lots of visitors will be better socialised than those reared in a quieter home or in kennels.
Will your puppy be microchipped?
Will your puppy be vaccinated, wormed and treated for fleas before re-homing? Responsible breeders will treat puppies appropriately at an early age.
Has the puppy been health tested? This is important if you're considering a breed that's prone to health problems.
Do they just breed, or are they involved in showing, working or competing with their dogs too?
How long have they been breeding for? Experienced breeders will have greater knowledge of their chosen breed.
Do they breed more than one type of dog? Multiple different breeds producing puppies in one place may suggest more of a commercial operation or, at worst, a puppy farm.
What support do they provide? Responsible breeders usually offer advice and support, including written information on care for the puppy. Reputable breeders usually offer support for the whole of your dog's life.
Do they offer to take the puppy/dog back in the event of any problems during the dog's entire life (e.g. health problems or behavioural problems)?
Do they home their puppies with pet insurance?
Check the puppies' environment. Is it clean and dry? Do mum and her puppies have their own space? There shouldn't be lots of dogs in one area.
Look at all the dogs in the environment. Do they all look healthy, happy and friendly? Are they comfortable around the breeder? All dogs should be treated with respect.
Meet mum and the rest of the litter before getting a puppy - responsible breeders will be happy for you to do this. It's natural for mum to be a little wary of people viewing her litter but she should be attentive, not nervous or aggressive. If they're old enough, you should also be allowed to handle the puppies, just make sure that you ask permission from the breeder first.
Look at mum's size and temperament, as this may affect your puppy's characteristics in the future.
Ask about the father's temperament, health (including any genetic or health tests) and pedigree. His pedigree (ancestry/family tree) should go back around five generations. It's unlikely that the father will be around when you visit, as most breeders use a stud dog, but the breeder may have a picture of him to show you.
 
What do the best dog breeders have in common?
There are a few tell-tale signs you're dealing with a good dog breeder. Your experience meeting a breeder should always be a positive one. They should be open and honest when answering questions, and prepared to show you how their breeding programmes work. But their job entails many other responsibilities. Here is what the best dog breeders offer to new pet parents:
The dog breeder should fulfill their main responsibilities
Follow recommended breeding guidelines.
Make use of health screening schemes, such as testing for hip problems and eye conditions which will help owners to predict the future health of their puppy.
Ensure the puppy is seen with its mother, to give an indication of how the puppy is likely to turn out.
Be prepared to answer your questions about the breed.
Give new owners written information regarding the socialisation and training of the puppy.
Be there as a point of contact throughout the puppy's life to ensure that the dog and owner have a happy and fulfilling relationship.
The dog breeder should be open and happy to let you visit the litter
One of the most important things to do on our puppy buying guide is to try to visit the litter when all of the puppies are still with their mother. This will give you an idea of how they have been raised, the temperament (be wary of puppies that hide in a corner away from you, all puppies should be pleased to see you) and also an indication of what your pup will likely turn into. If you are happy, then a breeder will ask for a deposit to secure your puppy. Also, you can discuss when you are able to pick up your puppy.
The breeder should give you a list of documents when you pick up the puppy
When you pick up your puppy you should receive:
A pedigree.
Microchip details.
Inoculation certificate (if any puppy vaccinations have been done).
A puppy pack which includes: information on the breed, feeding guide, grooming advice, exercise advise etc.
Some breeders offer 4 weeks free insurance which will be valid from the day that you pick your puppy up.
If your pup is already registered with the Kennel Club the registration document will be provided too. However, some breeders will send this to you later on.
You may also receive copies of any additional health certificates for the sire and dam. Just like humans, some breeds of dogs can be affected by inherited conditions. It is important that you are aware of these conditions and know the right questions to ask when buying a puppy. There are also some DNA tests now available for certain breeds.
The breeder should handle puppy vaccinations, deworming and microchipping before you pick them up
The puppy should be fully wormed before you pick it up, and you should also ask about when their next worming treatment is due. The same is said for parasite treatments. Make sure to add vaccinations to your list of questions to ask when buying a puppy too, as they may be either fully inoculated, partially or not at all. Additionally, all breeders must ensure puppies are microchipped before leaving for their new homes.
The dog breeder should give you a contract to sign
Be prepared to sign a contract of sale. Make sure you read the contract and ask questions from the breeder. The contract may include things like whether you'll be able to breed from the puppy or not, whether it has show potential, any possible defects and what security you have regarding the return of the puppy should anything be wrong – it's always advisable to take your puppy to a vet within 2 weeks of purchase for a full health check.
The breeder should look forward to maintaining an ongoing relationship
Your breeder always loves to be informed of the progress of your puppy and the occasional call or email with photos is usually very welcome. It's also a good idea to keep their contact details as if you fall into unfortunate circumstances and you're no longer able to keep the puppy, the breeder should be your first point of contact. Reputable breeders will always want to help. Always be honest with the breeder too. If there's something wrong with the puppy, contact the breeder to discuss.
 
How to spot a puppy farm
If you're looking to buy a new four-legged friend, you may be wondering how to spot a puppy farm. A puppy farm is a breeder that produces puppies in high volumes and often has no regard for the health or welfare of the puppies or their parents. It might surprise you to learn that these are still prevalent and where they may offer puppies for a cheaper price, you will not get a well-adjusted, health tested puppy like you would from a reputable breeder. A few tips for how to spot a puppy farm are as follows:
The prices may seem cheaper and too good to be true.
Never buy a puppy when you haven't seen the mother as this will likely be from a dealer.
So that's our puppy buying guide! Now you know everything you need to know about buying a puppy from a breeder. Interested in adopting a puppy instead? Check out our article.
Explore our puppy food: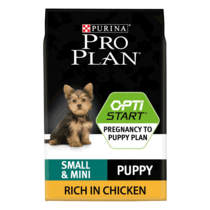 PRO PLAN® Small and Mini Puppy OPTISTART Chicken Dry Dog Food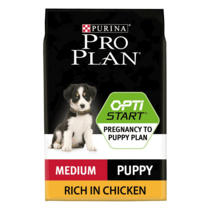 PRO PLAN® Medium Puppy OPTISTART Chicken Dry Dog Food