The need-to-know
Playful and curious cat
Friendly but independent cat
Somehow talkative cat
Average build cat breed
Requires grooming once a week
May require familiarisation before living with children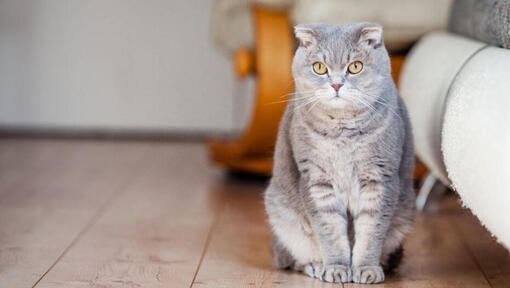 Personality
The Scottish Fold cat breed has a sweet, gentle temperament despite its strange appearance. Scottish Folds are not an active breed, and this may be because of the pain involved in movement.
History and Origins
Country of Origin: Scotland
Named after its forward folding ears, the Scottish Fold cat breed was first seen as a natural mutation in Scotland in the 1960s. British cat show judges and numerous veterinary surgeons decided that the cat's folded ears were an undesirable deformity and would make it impossible for the cat to clean its ears. Deformities of the spine, hind legs and tail also appeared when folded-ear cats were bred to one another. The breed is popular in the USA and elsewhere.