Friskies Cat Food
Friskies® Junior Chicken and Milk Dry Cat Food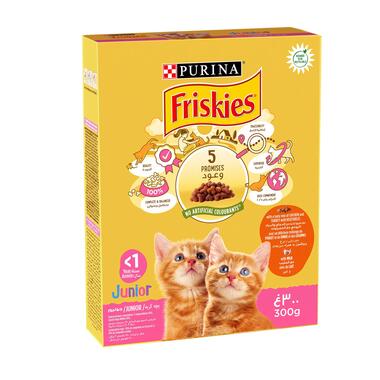 No added artificial colours, flavours or preservatives.
100% complete & balanced.
Specially formulated for kittens up to 1 year.
With the right level of vitamin E to help support his natural defences.
Available in stores and online in:

BAHRAIN

EGYPT

JORDAN

KUWAIT

MOROCCO

OMAN

QATAR

UAE
Features
No added artificial colours, flavours or preservatives.
100% complete & balanced.
Specially formulated for kittens up to 1 year.
With the right level of vitamin E to help support his natural defences.
Quality protein to help support a healthy growth.
Vitamins and minerals to help his teeth and bones grow strong.
Taurine to help promote a healthy heart and good eyesight.
Kittens are natural explorers, alive to everything in their world. It's what makes them such fascinating members of the family and brings so much vitality to our home.

When cats are young they expend a lot of energy on new adventures everyday, and we want to nurture their natural love of discovery by supporting their specific physical needs.

That's why Purina experts have created Friskies Kitten: delicious quality cat food, carefully balanced to meet the unique needs of kittens with specific nutrition for a healthy, happy start to an adventurous life full of vitality.
Friskies has been feeding cats with good, wholesome nutrition for decades. We fill millions of bowls and this honour comes with great responsibility. It's up to us to make sure all cats who eat delicious Friskies get the healthy food they need. That's why Friskies recipes are made with no added artificial colours, flavourings or preservatives. So you can keep feeding them the same tasty food they love and feel proud about it.
With Friskies , the world of discovery of your Kitten starts with the right food:
100% complete and balanced nutrition.
Specially formulated for Kittens up to 1 year, with all the nutrients they need for happy and healthy growth.
With the right level of vitamin E to support his natural defences.
Friskies Kitten is a recipe specially formulated for the healthy development of your kitten. It provides your little explorer with all the nutrients he needs to ensure a good transition from mother's milk to solid food and to give your kitten a great start to a life full of discovery.
Ingredients
Cereals
Meat and animal derivatives (10%*)
Vegetable protein extracts
Oils and fats
Vegetables (0.7%**)
Minerals
Fish and fish derivatives
Milk and milk derivatives (0.09%***)
Yeasts
*Equivalent to 20% rehydrated meat and animal derivatives with min. 4% chicken in Y-shape kibbles. Equivalent to 3.6% chicken in product.
**Equivalent to 4% rehydrated vegetables in Y-shape kibbles with 0.6% equivalent to 3.6% vegetables in product.
***Equivalent to 0.32% rehydrated milk and milk derivatives with 4% milk in round kibbles.
Nutrition & Analytical Constituents
Protein: 35%
Fat content: 12%
Crude ash: 8%
Crude fibres: 2%
Nutritional additives
IU/kg:
Vit A: 16000;
Vit D3: 1300;
Vit E: 110.
mg/kg:
Ferrous sulphate monohydrate: 185;
Calcium iodate anhydrous: 3.0;
Cupric sulphate pentahydrate: 45;
Manganous sulphate monohydrate: 20;
Zinc sulphate monohydrate: 230;
Sodium selenite: 0.3;
Taurine: 1 100.
Colourants* and antioxidants.
*No added artificial colourants.
Feeding guide
Age = Quantity to provide (Grams per Day):
6 to 12 weeks = 25-85g in 2-3 meals **
3 to 6 months = 50-110g in 2 meals**
6 to 12 months = 110-60g in 2 meals**

Pregnant cat = Min. 100g **
Nursing cat = Min. 270g **
**or ad libitum.

Friskies Kitten should be introduced at 3 to 4 weeks of age.

Product should be mixed with water to make eating easier. Increasing the quantity as the kitten starts to eat more and reduce the quantity of water added when kitten is able to eat the food alone.

Each kitten is different, depending on the kitten activity level and body condition, food amounts and/or time allowed to eat may need to be adjusted.

Also suitable for pregnant and nursing cats.

Fresh, clean drinking water should always be available. Sufficient everyday consumption of water is essential for the health of your kitten.
Dry Food
You may also like...