PURINA® FRISKIES® Wet Cat Food
PURINA® FRISKIES® in Pate with Chicken and Vegetables Wet Cat Food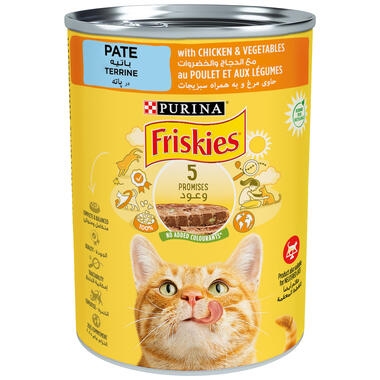 PURINA® FRISKIES® Wet Cat Food
Complete pet food for adult cats
100% Complete and balanced
No added colourants, no added artificial flavourings and preservatives
Products also suitable for neutered cats
Contains essential vitamins and minerals
Contains Omega 6
Available in stores and online in:

SAUDI ARABIA
Complete pet food for adult cats
100% Complete and balanced
No added colourants, no added artificial flavourings and preservatives
Products also suitable for neutered cats
Contains essential vitamins and minerals
Contains Omega 6
Friskies® 5 Promises. From the day you brought your cat home, you made a commitment, a promise to care for them and feed them right. It is the same here at Friskies®. We promise to always use our experience and expertise to do our utmost for you and for your cat to keep him happy and healthy.
5 promises because we care:
- Nutrition: 100% complete and balanced nutrition and delicious goodness with quality animal protein
- Quality: we carry out hundreds of daily checks throughout our production process
- Expertise: developed by Purina nutritionists
- Traceability: made with high quality ingredients carefully-selected from known and trusted suppliers
- 2025 commitment: our commitment is to have 100% of our packaging recyclable or reusable by 2025
All our recipes have no added colourants and no added artificial flavourings or preservatives.
Ingredients
Meat and animal derivatives (of which chicken 12%), minerals, vegetables (0.8% dehydrated vegetables, equivalent to 7.2% vegetables), various sugars.
Calories
(Note: Information Not Available on the LSS)
Nutrition & Analytical Constituents
Protein: 8.5%,
Fat content: 5.0%,
Crude ash: 3.0%,
Crude fibre: 0.20%.
Omega-6 fatty acids: 1.0%
Moisture: 81.5%,
Nutritional additives
IU/kg: Vit A: 670; Vit D3: 100
mg/kg:Iron (II) sulphate monohydrate (Fe: 7.7); Calcium iodate anhydrous (I: 0.19);
Copper (II) sulphate pentahydrate (Cu: 0.67); Manganoussulphate monohydrate (Mn: 1.4);
Zinc sulphate monohydrate (Zn: 13; Taurine: 420.
For an average adult cat (4kg), feed 270 g per day served in 2 meals at room temperature. The adult maintenance averages are based on moderately active cats at normal environmental temperatures. Individual needs vary and feeding should be adjusted as required to maintain your cat at a lean, healthy body weight. Fresh, clean drinking water should always be available.FRISKIES® in gravy is also suitable for neutered cats.
Wet Food
You may also like...