Felix® Wet Cat Food
Felix As Good As It Looks with Trout and Green Bean in Jelly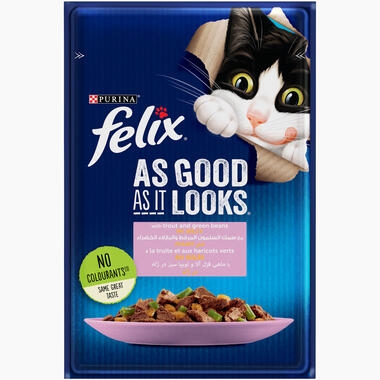 Mouth-watering tastes and textures, it really does taste as good as it looks!
Packed with essential vitamins and minerals.
A great way to keep your cat nourished through complete and balanced nutrition.
Delicious flavours including trout and green beans
Available in stores and online in:

BAHRAIN

EGYPT

JORDAN

KUWAIT

MOROCCO

OMAN

QATAR

SAUDI ARABIA

UAE
Features
Mouth-watering tastes and textures, it really does taste as good as it looks!
Packed with essential vitamins and minerals.
A great way to keep your cat nourished through complete and balanced nutrition.
Delicious flavours including trout and green beans
FELIX® As Good As It Looks is a range of irresistible meals that look, smell and taste so delicious they're just like food you might have cooked yourself. Each recipe has tender pieces in succulent jelly for a tasty meal your cat can really get his teeth into!
They're also a source of essential Omega 6 fatty acids with the right combination of balanced minerals and vitamins to help keep your cat full of vitality and ready for mischief! They're packed with healthy goodness and satisfy 100% of your cat's daily needs when served according to the feeding guidelines.
That's not all! FELIX As Good As It Looks is available in a wide range of delicious recipes in savoury jelly to satisfy your cat's love of variety every day. They really do taste as good as they look!
*Also adapted to sterilized cats
Ingredients
Trout and green beans
Vegetable protein extracts
Minerals
Various sugars
Nutrition & Analytical Constituents
Moisture: 82.0%
Protein: 11.5%
Fat content: 2.5%
Crude ash: 2.5%
Crude fibres: 0.05%
Linoleic acid (omega 6 FA): 0.4%
ME value: 67kcal/100g
Nutritional additives
IU/kg:
Vitamin A: 585;
Vitamin D3: 90;
Vitamin E: 13.
mg/kg:
Fe (E1): 20;
I (E2): 0.26;
Cu (E4): 2.3;
Mn (E5): 4.0;
Zn (E6): 33.
Feeding guide
For an average adult cat (4kg), feed 3 to 4 pouches per day in at least 2 separate meals.
The adult maintenance averages are based on moderately active cats at normal environmental temperatures. Individual needs vary and feeding should be adjusted as required to maintain your cat at a lean, healthy body weight.
Serve at room temperature.
Clean, fresh drinking water should always be available.
Jelly
You may also like...