For centuries, dogs have been considered our best friends and most loyal companions, so it's only natural that there are numerous pups that have risen to fame. At Purina, we've put together this list of our favourite famous dogs in history which includes everyone from movie stars to decorated military dogs, keep reading to find out more!
1. Toto, The Wizard of Oz
You may not have considered this, but without Toto, none of the events in The Wizard of Oz would have transpired to begin with. Dorothy runs away from home with Toto to save him from the horrible Miss Gulch who wants to have him euthanised for biting her. This is why Dorothy is outside the storm shelter when the tornado hits, transporting her and her tiny companion to Oz. What's more, it's also because of Toto that the company discover that the Wizard is a fraud too!
Fun fact: The role of Toto in the 1939 film was played by a Cairn Terrier called Terry and it's reported that she was paid $125 each week, which was more than some of the human actors!
2. Lassie, The Famous Rough Collie
When it comes to famous dogs in movies and TV shows, they don't get much more well-known than Lassie. This lovable Rough Collie that's always getting into adventures and saving the day first appeared in a short story in 1939, but since then she's appeared in novels, movies, TV shows and even video games! However, she's perhaps most known for the 19-season long TV show 'Lassie' which aired from 1954 – 1973. Six different canine actors played the part, but the longest reigning was a dog called Baby who starred from 1960 – 1966.
3. Scooby Doo
Despite not being a real-life dog, Scooby Doo is probably one of the most famous canines in the entire world. This famous dog has been around since the 60s and since then there's been a wealth of movies, TV shows and games – not to mention huge amounts of merchandise – made starring the cowardly Great Dane. It's no secret that Scooby Doo has made a huge cultural impact on us all too, in fact, many of the sayings from the show have found themselves woven into our vocabulary.
4. Rin Tin Tin
Rin Tin Tin was a German Shepherd, discovered amidst battle-torn France during WW1, where he was adopted by American solider, Lee Duncan. After the war, Rin Tin Tin moved home to Los Angeles with Duncan, where he was soon scouted by a filmmaker who saw him jump an impressive 12-feet high at a dog show. After he landed his first role, he starred in almost 30 films, some of which were created with just him in mind, resulting in him becoming one of the most famous dogs in movies known today. It's also been said that Rin Tin Tin was the unofficial mascot of Warner Bros Studios and he saved them from bankruptcy when they were just a small studio!
Fun fact: Rin Tin Tin's fame helped to increase the popularity of German Shepherds as family pets in America!
5. Balto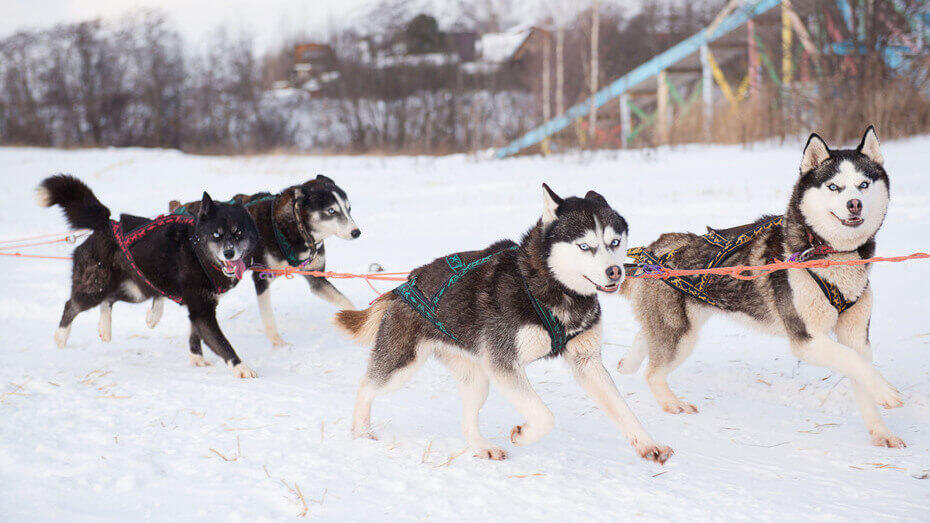 You may have heard this name from the cartoon released in 1995, but did you know it was based on the true story of a famous dog? In 1925, a city in Alaska called Nome suffered an outbreak of diphtheria, a very deadly and contagious disease. The only antidote was 500 miles away in Anchorage and there was too much snow to get there by any method other than dog and sled. Numerous volunteers and their heroic dogs stepped up across Alaska and together, they formed a chain across the entire state. It was Balto, a Siberian Husky, that led the final leg of the mission and he successfully guided his team through 54 miles of treacherous conditions and -40C temperatures. Once he delivered the antidote home to Nome, he was hailed a hero and since, has been immortalised in many different ways including movies and a statue in Central Park, New York.
6. Sinbad, the Sailor dog
Sinbad is one of the most famous dogs in history and one of the most decorated canine war veterans too! He sailed on the U.S. Coast Guard Cutter, George W. Campbell, where he served for 11 years and even saw combat in WWII. The way he came to be a ship dog is quite a funny tale, as he was originally purchased by one of the ship mates who wanted to get a companion for his girlfriend whilst he was at sea, but unfortunately, her landlord wouldn't allow her to keep pets. So, the ship mate stowed Sinbad away in his bag, where he was soon discovered by the Captain. To everyone's surprise, the Captain decided to use Sinbad as an opportunity to teach the crew responsibility and shortly after, he became enlisted and was promoted to Chief Dog after a few years of being in first class.
Fun fact: Sinbad was awarded 6 service ribbons which were attached to his collar.
7. Sunny and Bo Obama
Portuguese Water Dogs Sunny and Bo Obama were once the first dogs of America! Owned by former President Obama and his family, the breed was selected due to his daughter Malia's allergies, as they have a single coat which might make them more 'hypoallergenic'. It's been said that this pair of famous dogs have quite the personalities too, with Sunny being the cheekiest of the two. Apparently, she even had a tendency to poop just outside the Lincoln bedroom!
8. Nemo
This famous dog in history served in the Vietnam War, where canines were employed due to their superior sense of smell and hearing to detect enemies sneaking through the jungle. Nemo, a German Shepherd, served as a sentry dog at the Tan Son Nhut Air Base and on December 4th 1966, Nemo alerted the approach of Vietnamese soldiers and helped his handler successfully defend the base. However, during the fight, a bullet hit Nemo in the eye, resulting in him permanently losing his eye. Despite this, Nemo heroically protected his badly wounded handler, lying over him to ward off any other threats until help arrived. After the incident, Nemo was retired, but he continued his career as a recruitment dog.
That's our top famous dogs in history! Want to find out about star studded kitties next? Read our guide on the top 10 famous cats throughout history.
Explore our dog food brands