Cats are known for their independent natures, which is just one of the qualities that makes them such great pets! Most cats will be perfectly happy being left alone during the day, but if you need to leave them for longer, you may need to look into boarding catteries or cat sitting services.
As cats snooze for around two-thirds of their day (and even more in their senior years), they should be fine left to their own devices for shorter periods of time, as long as you give them plenty of love and quality playtime when they're awake!
However, if you're going to be away for longer than a day, you'll need to make sure that your cat is properly cared for. If you can't find a willing friend, try a cattery or use a cat sitting service.
Leaving cats at home
Cats are home-loving, territorial creatures, so it can be easiest to find a way for your cat to be looked after at home when you go away. They're unlikely to feel stressed if they're in their usual environment with its familiar scents, sights and sounds.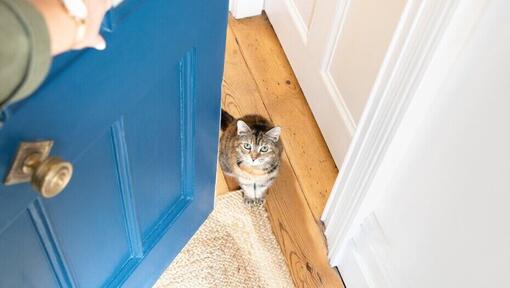 If you're lucky, you'll have a cat-friendly friend or neighbour who's happy to pop in to feed them, clean their litter tray, provide fresh water and give them some TLC!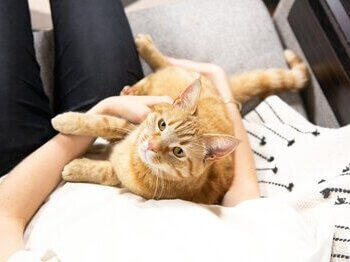 The next best alternative to getting a friend or family member to look after your cat is to find a professional house sitter who'll stay in your home while you're away to care for your cat in their usual day-to-day environment. As well as keeping an eye on your cat, they will also water any houseplants and keep your home looking "lived-in" to deter burglars.

There are alternatives to house sitters. You may wish to try a professional pet sitter or cat sitting service, for example. Services vary per person or company, but you can usually expect a pet sitter or cat sitting service to come to your house at least twice a day to feed your cat, play with them and clean out their litter tray.
For peace of mind, you may decide to keep your cat indoors while you're away. Not only will this mean they're always there when the pet-sitter calls, but you'll be more relaxed knowing that they're not getting into any trouble in the big outdoors.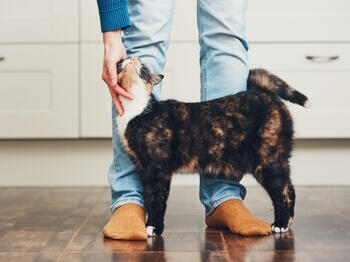 Before you agree terms on with a professional cat sitter, discuss the following questions to make sure they're a good fit:
What experience does the person have with cats?
What insurance does the professional have in place? Ask to see their documents for peace of mind.
Do they have references? Contact them to get a recommendation.
Are they self-employed or do they work for a pet-care agency? If they work for an agency, what extra services does the agency provide (e.g. a replacement if your sitter falls ill).
Don't be worried about asking too many questions - a professional cat sitter won't mind at all. In fact, they're more likely to see it as a sign of a good owner, and will be more than happy to chat about their professional services with a fellow cat lover. Remember, it's not just your precious cat that you're giving them responsibility for, you're also handing over your house keys!
Word-of-mouth recommendations from friends and your vet are good starting points, but do your homework too. If for any reason you feel uncomfortable about the arrangement, follow your gut instinct and find another cat sitting service or cattery.
Whichever service or person you choose, give your pet sitter and your cat the opportunity to meet one another before you leave them in each other's care.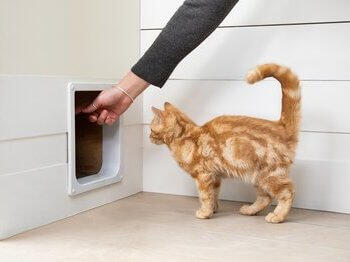 Once you've found your perfect cat carer, the next thing you need to do is give them a clear and comprehensive list of instructions about your cat and, if relevant, your home. You might find it helpful to meet with them in person to discuss your pet's needs, and then leave them written instructions.

As well as your contact details, write down your cat's feeding instructions, any special dietary or behaviour requirements, their favourite games to play and any restrictions you have – for example, where they are and aren't allowed in the house. If your cat is exclusively an indoor cat, make sure they know that!
They'll also need to know what brand of cat litter you use and what food and treats you give, in case they run out whilst you are away.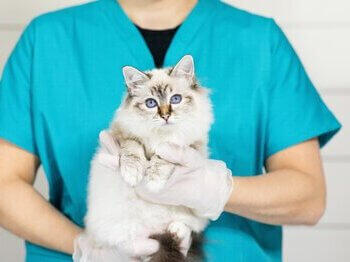 Of course, accidents and illness do happen, whether you're there or not, so as well as learning the skills yourself, make sure your cat sitter or carer is qualified in feline first aid. It's also a good idea to leave them a list of instructions about any current medical issues your cat may have and, if relevant, how and when to administer any medication.

Most importantly, make sure the cat sitter has all of your contact details, plus those of a back-up in case they can't reach you. Leave your vet's contact details too, as well as your cat's microchip information (if relevant), plus any necessary veterinary and medical history.
Although it may seem a little morbid, speak to your cat sitter about what you'd like to happen if your cat was to suddenly fall ill or pass away in your absence. Even though it's a hard subject to discuss, it means you both know what the process is for every worst-case scenario, which could avoid any unnecessary heartache later.
Cat sitting apps
If you're struggling to find a reputable cat sitting service in your area, there are a number of cat sitting apps and websites to make your search much easier! Here's a few suggestions (note that we haven't 'vetted' them):
Cat in a Flat
Cat in a Flat is a great cat sitting app to help you find cat sitters near you. It's really simple to use, just pop in your postcode and find pet sitters in your area. All sitters have a profile page where their credentials are displayed – and you can arrange a face-to-face meeting beforehand to make sure you're the right fit. You can choose overnight stays, once or twice daily visits, whichever you need. Plus, some cat sitters also offer additional services such as watering your house plants and may care for any other small pets too.
Trusted Housesitters
If you tend to travel quite a bit, whether it's for business or pleasure, Trusted Housesitters could be the perfect cat sitting app for you. Owners just need to purchase an owner plan which is a one-off yearly payment, then you can have as many sits as you like! Your cat sitter will be able to send updates and photos through an app, and both the sitter and you can access the vet advice line 24/7.
Pawshake
Pawshake is a super simple cat sitting app. There's no need to pay for a subscription service, you just pay for the sitter which meets your needs. Booking is straight through the app and you can meet any potential sitters beforehand to make sure all parties are happy (your kitty included). All sitters are reviewed too – so you'll be rest assured that your pet is in capable hands.
Cat sitting prices
Cat sitting prices can vary greatly depending on the individuals experience. Expect to pay more for weekends, and agencies often charge other fees so make sure you ask for all the costs upfront, so you can compare.
Boarding cattery services
If you'd rather not have someone coming into your house or would prefer your cat to have company 24 hours a day, you may want to consider a cat cattery. This is a popular choice and there are many well-managed, caring boarding catteries across the country.
If you're planning to use catteries, try to get your cat used to them from kittenhood as older cats may struggle a bit with the change of environment.
It's important to do your research to find a reputable, licensed cattery with knowledgeable, caring staff and good, clean, comfortable facilities. The International Cat Care website offers some excellent advice on choosing a boarding cattery, as well as questions to ask when you visit.
Choosing a cattery
We always recommend you visit a cattery in advance to make sure it is clean and that the cats there look warm, relaxed and happy. You'll know if it's somewhere where your cat will fit in and be comfortable. 
Here are a few things you should consider when choosing a cattery:
Initial contact:
How friendly do they seem on the phone? Do they show an interest in your cat? A reputable cattery will ask questions about their breed, age and temperament at a minimum.

Do they offer viewings prior to your cat's stay? They should always offer a viewing of the facilities prior to booking.

Check their testimonials: look on Google, Facebook and of course, good old-fashioned word-of-mouth is great too!

Is the owner or manager happy to show you around? Bear in mind, with current COVID restrictions, viewing must be by appointment only.

Do they check all vaccinations are up-to-date? This might be a requirement under the latest regulations.

What does the facility smell like? Catteries should be refreshed and cleaned at least twice a day. There should be no bad odours present.

What's the overall vibe of the place? How much howling or meowing is heard? There should be an overall calm and relaxed feeling.

Are the enclosures large enough? 

Is there appropriate equipment and bedding? There should be a variety of bed types and each cat should have their own bed and bowl, enrichment and toys should be readily available too.

What do the cats react like when staff are near them? They should be pleased to see them and never be fearful. Bear in mind that each cat is different and some may be naturally more fearful than others.

How do the staff react to the cats? They should show an interest and interact with them.

What's the daily routine? Cats should have at least 4 visits a day.

Is the cattery Air conditioned / heated? 

Is natural or artificial light offered? If it's artificial, it needs to be on for at least 10 hours a day, so it should be on at the time of your visit.

How many cats are in each enclosure? Only cats from the same household can be put together.

How do they care for elderly cats? Can they administer medicines orally and/or by injection? Additionally, there must be someone on-site qualified in animal first aid.

What's the security like? Have a look around and check for CCTV and padlocks on doors and gates.
When coming to board
Do they let your cat have a trial stay? Reputable catteries will offer an opportunity to let your cat get used to the facility, the sounds, smells and the staff before their first long stay.

Is the paperwork informative? The minimum requirement is for basic information to be taken. The cattery should also make you aware of terms and conditions and what to expect.

How do the staff react to your cat and vice versa? Your cat should react positively and the staff should be welcoming to you both.

Do they offer a contact number? You should be able to call and ask about your cat during their opening hours. Some catteries may also offer to send pictures and videos too.

Have you let your vet know your cat is staying at a cattery? This is a good idea as it will allow the cattery to discuss any issues should they arise and access medical records without your prior consent.
Licensing
Make sure that the boarding cattery is licensed, as that means they must adhere to various regulations regarding hygiene and safety. A copy of their licence may be required to be displayed clearly, both in the facility and on their website. Good catteries should have at least a 3-star rating, so be sure to look out for this. 
To be on the safe side, don't leave your booking to the last minute, as the best catteries tend to be booked up well in advance. If you're planning to travel in the busy summer months or over the Christmas and Easter holidays, you'll want to give them plenty of advance notice.
Necessary paperwork
You will be asked to provide proof of up-to-date vaccinations before your cat can be boarded at any cat cattery. It's also a good idea, in case of emergencies, to provide the cattery with your vet's details, your cat's microchip details and a record of any relevant veterinary history. If your cat is on any medication, make sure you leave clear instructions on how and when to administer them, as well as anything you'd like them to know about dietary or behavioural issues.
The more they know about your cat's likes and dislikes, the calmer your cat will be, so both you and your pet can relax during your break!
Boarding cattery prices
The rates for boarding catteries can vary quite greatly depending on the facility in question. Some will offer a discounted rate if you have an additional cat that needs to be boarded.
It's natural to worry about leaving your cat in someone else's care, but a reputable cat sitter or boarding cattery will give you peace of mind that your pet is happy and healthy while you're away.
Looking to find out more about your new kitten or cat? Read our article all about how your cat experiences the world.