Choosing the perfect cat name for your furry friend can be a difficult choice. If you're struggling to get inspired with your feline's new moniker, check out our top 20. From mesmerising male cat names to quirky female cat names, we've got you covered.
Coming up with the perfect cat name that suits your furry companion can be quite the challenge. The moniker needs to be one that fits them throughout their life and one you don't mind yelling when it comes to their dinner time!
Whether you've just got a new kitten or have rehomed one from a rescue centre, we've got male and female cat names to suit both young and senior felines alike. Keep reading to discover our top 20 purrfect names.
Male cat names
1. Smoky
This cat name is the perfect option for a Russian Blue or as a grey cat name as it pays tribute to their wonderfully smoky hue.
2. Oreo
If you're looking for a male cat name for a black and white cat, Oreo could be the perfect fit. Taking the name from the delicious biscuit, this is a name that'll fit your adorable kitty throughout his life.
3. Monty
This wonderfully versatile cat name suits kitties of all hues and breeds. Usually a diminutive of Montague or Montgomery, the name is actually French for 'pointy hill'! We think it's best for cats with a posh personality.
4. Pumpkin
This male cat name isn't just a winter squash, but it's also a common British term of endearment. Consider Pumpkin for a ginger cat that shares the eye-catching orange colouring.
5. Prince
It's no secret that our cats are the royal kings and queens of our home, so why not give them a name fit for a king or, well prince? Prince is a great name for the artistocat in your life and one that they're sure to appreciate.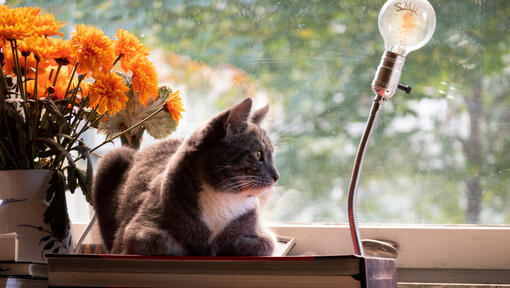 6. Dexter
Dexter is a super popular male cat name. That's probably due to the Showtime TV series of the same name. Although the character in the show has homicidal tendencies, it makes a very adorable name for cats, and some enjoy the irony if they have pets which are particularly good at hunting.
7. Gizmo
This cute male cat name comes from the iconic 1984 film, Gremlins. If you have a fluffy cat with brown and white or tortoiseshell colouring, Gizmo would make a great name. Just don't feed them after midnight!
8. Merlin
Merlin is a mystical cat name which suits cats of all colours and breeds. The name hails from Wales and means 'sea fortress', but was popularised by the wizard that was King Arthur's guide and helper.
9. Cosmo
If your kitty is quite literally out of this world, Cosmo would make a perfect name. It's wonderfully suited as a black or white cat name, as these colours look like they've been freshly picked out of the night sky.
10. Ziggy
David Bowie fans will adore the male cat name Ziggy. Known worldwide as the glam alter ego for the iconic singer and actor, Ziggy is a name that's both fabulous and adorable, making it perfect for our four-legged friends.
Female cat names
1. Luna
Coming from the Latin name for moon, Luna is a stunning female cat name to suit your magical feline. Gaining popularity because of the quirky character, Luna Lovegood from the well-loved Harry Potter series, this is a name that's being favourited for cats, dogs and even human babies!
2. Lulu
Lulu is a charming name which comes from the Arabic word for 'pearl'. It's been a cherished name since the 60s, thanks to the firecracker singer, Lulu, famed for performing 'Shout'. We think it makes an absolutely adorable name for cats too.
3. Zelda
Fans of the hit Nintendo game franchise will find themselves enamoured by the name, Zelda. Taken from the fierce princess in the Legend of Zelda series, this female cat name is ideal for your little four-legged warrior.
4. Buffy
Those with a feisty kitty will find the perfect name with Buffy. The name comes from the cult TV show, Buffy the Vampire Slayer which follows a sassy vampire-fighting girl on her quest to battle the forces of darkness. So, if you have a feline that can live up to the iconic namesake, Buffy will make the ideal choice.
5. Daisy
There's nothing sweeter than a kitty with a flower name. Daisy is an adorable name which will suit all cat breeds and colours and is sure to complement them from kittenhood all the way to adulthood.
6. Tallulah
Tallulah is an elegant female cat name which will suit posh breeds such as the Siamese or Persian. Meaning 'leaping water', the name rolls off of the tongue and feels all at once regal and cute - which are two characteristics that perfectly sum up our cats.
7. Raven
If you're looking for a black cat name, Raven might be just what you're after. Taken from the large, black bird of the same name, Raven makes an incredibly enchanting moniker.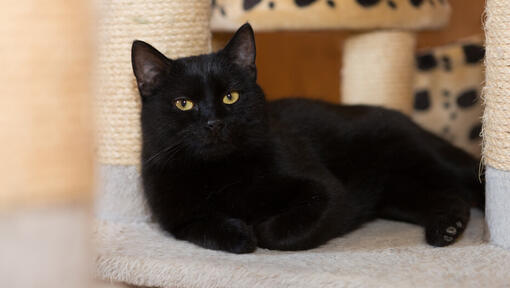 8. Bella
Coming from the Italian word for beautiful, Bella is a cherished female cat name. According to John Lewis Pet Insurance, Bella was actually the second most popular name chosen by their customers!
9. Molly
Originally used as a nickname for Mary, Molly is now a cute name in its own right. Meaning 'star of the sea', it's a name which is loved by many pet owners, and we can see why.
10. Poppy
Topping many of the lists for the number one female cat name is Poppy. This floral name isn't quite as delicate as Daisy, and brings a certain sense of feistiness. As it takes its name from the stunning red flower, we think this name would best suit ginger cats or those with a red tinge to their coat.
That's our best male and female cat names! Did your favourite name make the list? Or do you prefer something a little more unusual? Whatever the case, we're sure you'll pick the perfect cat name to suit both their looks and personality.
Have you recently got a new kitten and are looking for more information on caring or training for them? Take a look at our guide to litter training cats and kittens next.