Purina ONE® Dry Cat Food
Purina ONE® Kitten Dry Cat Food with Chicken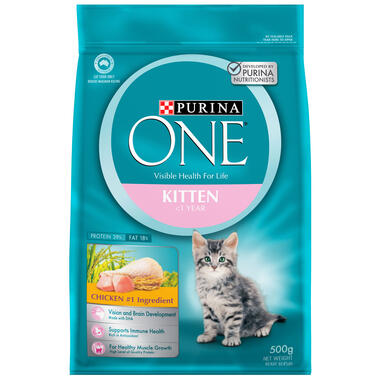 Vision and Brain Development Made with DHA
Supports Immune Health Rich in Antioxidant
High Level of Quality Protein For Healthy Muscle Growth
Available in stores and online in:

SAUDI ARABIA
Vision and Brain Development Made with DHA
Supports Immune Health Rich in Antioxidant
High Level of Quality Protein For Healthy Muscle Growth
Kittens are in a phase of intense growth and development. Their nutritional requirements are extremely demanding for this high growth rate. Our specially formulated dry kitten food contains a combination of essential nutrients to help support your kitten support throughout their early life. See visible differences in 3 weeks!
Ingredients
Poultry and Poultry By-product meal, Corn Protein, Animal fat and/or Vegetable oil, Rice, Wholegrain Wheat, Wheat Protein, Wholegrain Corn, Fish Meal, Vitamins and Minerals (Including Vitamin (A, D, E, K, B1, B2, B3, B5, B6, B7, B9, B12), Calcium, Choline, Chlorine, Copper, Iodine, Manganese, Selenium, Sodium, Zinc, Iron, Phosphorus, Potassium) and Amino Acids, Food colour.
Vitamins
Vitamin A (Min) 10000 IU/kg
Vitamin E (Min) 100 IU/kg
Taurine (Min) 0.13%
Analytical constituents
Crude Protein (Min) 39%
Crude Fat (Min) 18%
Crude Fibre (Max) 3.0%
Moisture (Max) 12%
Omega-6(min) 1.6%
Calcium (Ca) (Min) 1.0%
Phosphorus(P) (Min) 0.9%
DHA (Min) 0.02%
Metabolisable Energy (Min) 3700 KCAL/kg
Recommended daily feeding amounts for kitten cats with normal activity (using standard 250ml measuring cup – approximately 100g of product).
MAKING THE SWITCH TO PURINA ONE®
Although you'll be anxious to see the difference Purina ONE® can make in your cat, please allow 7-10 days to ease the transition from your cat's current food. Each day, simply feed a little less of the previous food and a little more Purina ONE® until you're feeding Purina ONE® exclusively. This gradual transition will help avoid dietary upsets.
Dry Food
You may also like...