Pro Plan® Wet Cat Food
PRO PLAN® Adult 7+ Sterilised NUTRISAVOUR Turkey Wet Cat Food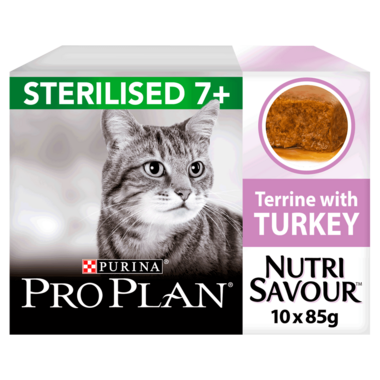 A complete wet food for Senior Adult Cats 7+ specially formulated for Cats to help maintain a healthy body weight for day-to-day vitality and to make a difference to long-term health.
Contains LONGEVIS, patented formulation proven to extend healthy lifespan and improve quality of life* 
Supports key vital functions (immune. renal. digestion).
Helps maintain urinary health by promoting diluted urine.**
Features
A complete wet food for Senior Adult Cats 7+ specially formulated for Cats to help maintain a healthy body weight for day-to-day vitality and to make a difference to long-term health.
Contains LONGEVIS, patented formulation proven to extend healthy lifespan and improve quality of life.*
Supports key vital functions (immune. renal. digestion) 
Helps maintain urinary health by promoting diluted urine**
Made with protein-rich tender turkey chunks in a delicious terrine for a tasty Wet recipe that Cats love to eat
*Study conducted with 90 cats aged between 7-17 years. Findings based on cats fed exclusively on the diet enriched with LONGEVIS® versus cats fed a control diet. European Patent EP1637041B1
** As all wet cat food product 
PRO PLAN Sterilised Senior Adult 7+ is a complete wet cat food scientifically formulated to support healthy ageing in cats over 7 years old. It contains LONGEVIS, a patented nutrient blend including antioxidants, a prebiotic, and omega-3 and omega-6 fatty acids, proven to help extend healthy lifespan and improve quality of life in cats aged 7+. Each pouch offers all the essential nutrients your cat needs to thrive as well as great taste of tender protein-rich chunks of Turkey. 
Ingredients
Meat and animal derivatives (of which turkey 4%)
Oils and fats
Fish and fish derivatives
Derivatives of vegetable origin
Minerals
Various sugars
Nutrition & Analytical Constituents
Moisture: 80.5%
Protein: 9%
Fat content: 5.5%
Crude ash: 2.6%
Crude fibres: 0.3%
Nutritional additives
IU/kg:
Vit. A: 993;
Vit. D3: 138;
Vit. E: 350.
mg/kg:
Iron (II) sulphate monohydrate (Fe: 12.0);
Calcium iodate anhydrous (I: 0.35);
Copper (II) sulphate pentahydrate (Cu: 0.9);
Manganous sulphate monohydrate (Mn: 1.6);
Zinc sulphate monhydrate (Zn: 17.3).
Taurine: 450.
Flavourings
Recommended daily amount (pouch/day)
For an average cat of 4 kg and 7-11 years old, feed up to 2.5 pouches per day and for a cat >11 years old, feed up to 3.5 pouches per day in at least 2 separate meals. The senior maintenance averages are based on moderately active cats at normal environmental temperatures. Individual needs vary and feeding should be adjusted as required to maintain your cat at a lean, healthy body weight.
Serve at room temperature.
Fresh, clean drinking water should always be available.
Gravy
You may also like...